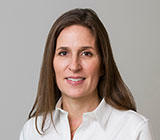 Maria Isabel Achatz, M.D., Ph.D.
Division of Cancer Epidemiology & Genetics
NCI Shady Grove
Biography
Maria Isabel Achatz received her medical degree at Faculdade de Medicina do ABC, São Paulo, Brazil, and completed residency training in Medical Genetics. She received a Master´s Degree in Science (Oncology) at Fundação Antonio Prudente, São Paulo, and completed her doctorate at the Universidade de São Paulo. Dr. Achatz joined the A.C. Camargo Cancer Center in 2003, as a clinician and researcher in oncogenetics. She is currently an adjunct investigator in the DCEG Clinical Genetics Branch, working on the Li-Fraumeni syndrome (LFS) Study.
Research Interests
Dr. Achatz's work as a physician-scientist is translational; she works both in clinical settings and the laboratory. In 2007, she described the high prevalence of LFS patients in Brazil due to the the founder p.R337H TP53 germline mutation. Her primary research interests include:
Clinical diagnosis and molecular basis of LFS, in particular the prevalence of the Brazilian founder mutation
Early detection and innovative screening methods for LFS
Genomic pattern and expression profile in tumors developed by carriers of germline TP53 mutations
Clinical and molecular diagnosis of Xeroderma Pigmentosum syndrome