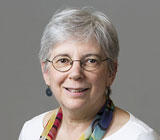 D. Michal Freedman, J.D., M.P.H., Ph.D.
Division of Cancer Epidemiology & Genetics
Dr. Freedman received an M.P.H. in 1995 and a Ph.D. in 1998 from Johns Hopkins Public Health School. She had previously been awarded a J.D. from Yale Law School and practiced law for several private and public organizations. Dr. Freedman joined the NCI Epidemiology and Biostatistics Program in 1995 and the Radiation Epidemiology Branch in 1999. She was awarded the NCI Director's 2006 Intramural Innovation Award and the NIH Merit Award in 2007. Dr. Freedman's research focused on the effects of ultraviolet radiation and vitamin D on cancer risk. She also studied cancer among medical radiation workers. Dr. Freedman retired from government service in 2017.