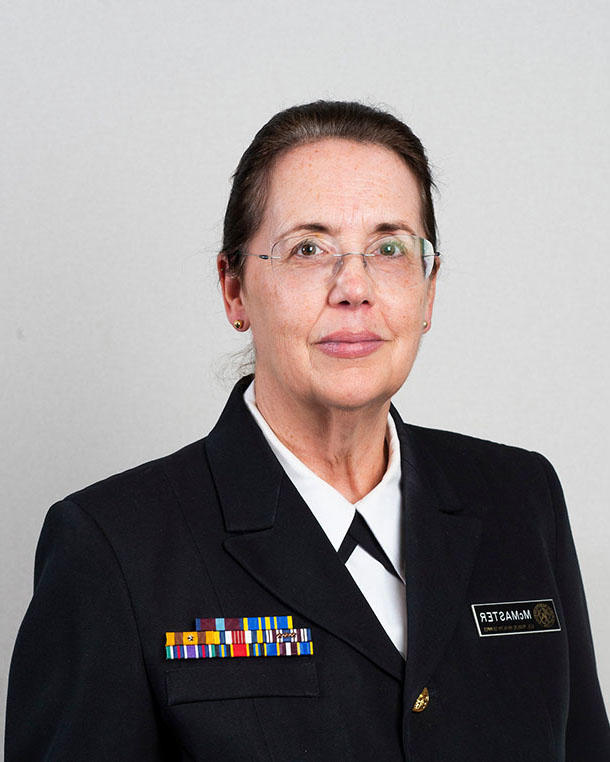 Mary L. McMaster, M.D.
Senior Clinical Specialist, Captain, US Public Health Service
NCI Shady Grove | Room 6E516
Biography
Dr. McMaster joined NCI as a clinical research fellow in the then-Genetic Epidemiology Branch, DCEG, to pursue clinical research in cancer genetics with an emphasis on familial cancer syndromes. She was promoted to staff clinician in 2002, and transferred to the Clinical Genetics Branch (CGB) in 2016. Dr. McMaster received her M.D. from the Bowman Gray School of Medicine of Wake Forest University, then completed residency training in Internal Medicine and a fellowship in Medical Oncology at Vanderbilt University. Following a postdoctoral fellowship in cellular biology at the Lineberger Comprehensive Cancer Center of the University of North Carolina at Chapel Hill, she came to NIH, where she completed training in Clinical Medical Genetics. She is a Commissioned Officer in the U.S. Public Health Service and was promoted to Captain in 2012.
Research Interests
Waldenström Macroglobulinemia
Waldenström macroglobulinemia (WM) is a rare subtype of non-Hodgkin lymphoma characterized by bone marrow infiltration with lymphoplasmacytic lymphoma together with a monoclonal IgM protein in the serum. Dr. McMaster studies families having more than one member affected by WM and related lymphomas as part of a clinical, genetic, and epidemiologic study of lymphoproliferative disorders (Clinicaltrials.gov study protocol 02-C-0210). Studies are geared to understanding the clinical spectrum of WM, characterizing its precursor condition, and identifying the genetic and environmental determinants underlying susceptibility to WM.
Familial Chronic Lymphoproliferative Disorders
Familial chronic lymphoproliferative disorders (LPD), including chronic lymphocytic leukemia, non-Hodgkin lymphoma, Hodgkin lymphoma and multiple myeloma (Clinicaltrials.gov study protocol 02-C-0210). Studies focus on genetic factors influencing susceptibility to LPD.
Familial Testis Cancer
Dr. McMaster works with colleagues in CGB to focus on histopathologic correlates of familial testis cancer and risk of cancers other than germ cell tumors in relatives of testis cancer patients.
DICER1 Syndrome
Rare germline variation in the DICER1 gene gives rise to a cancer-predisposition syndrome associated with pleiotropic manifestations, including the hallmark tumor, pleuropulmonary blastoma, a lung sarcoma. Dr. McMaster works with colleagues in CGB to characterize the clinical spectrum of DICER1 families and to explore genotype-phenotype correlations.
Press Contacts
To request an interview with NCI researchers, contact the NCI Office of Media Relations.
ncipressofficers@mail.nih.gov | 240-760-6600