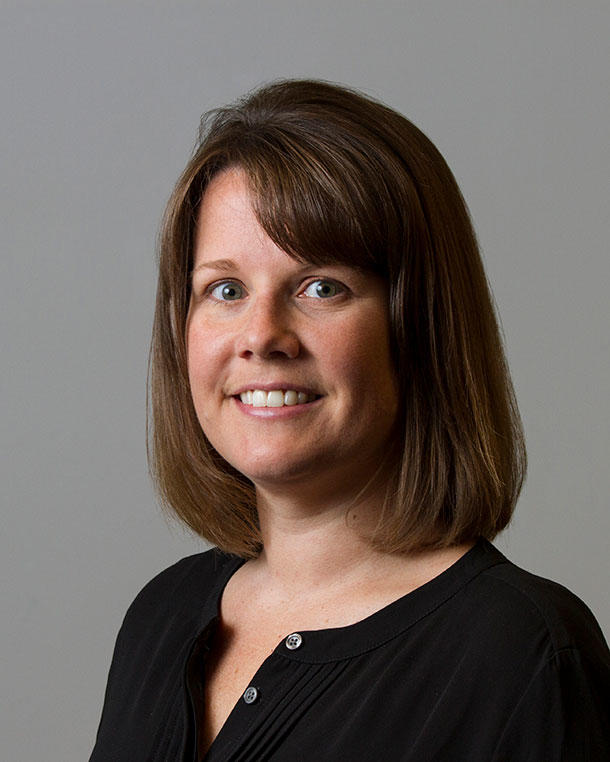 Britton Trabert, Ph.D., M.S.
Earl Stadtman Investigator
NCI Shady Grove | Room 6E422
Biography
Dr. Britton Trabert earned her M.S.P.H. in epidemiology from Emory University, her M.S. in biostatistics from the University of Michigan, and her Ph.D. in epidemiology from the University of Washington with a focus in reproductive epidemiology and women's health. She joined the NCI Division of Cancer Epidemiology and Genetics (DCEG) as a Sallie Rosen Kaplan Postdoctoral Fellow in 2009, was promoted to research fellow in 2011, and was appointed as an Earl Stadtman Tenure-Track Investigator in 2014. Her research interests concentrate on the epidemiology of hormonally-related malignancies, specifically two areas: 1) the epidemiology of ovarian cancer and 2) the hormonal etiology of female cancers. Dr. Trabert has received numerous awards for her work, including the NCI Director's Innovation Award and NIH Fellows Award for Research Excellence.
Research Interests
Ovarian Cancer Epidemiology
Until recently, scientists theorized that ovarian cancer arose from 1) microtrauma to the ovarian epithelium (outer layer) resulting from uninterrupted ovulation and 2) exposure to high levels of gonadotropins—hormones secreted by the pituitary gland that stimulate the ovaries. Over the last decade, the understanding of the origin of ovarian cancer has changed dramatically. Morphologic and molecular studies now suggest that many high-grade serous tumors—the most common and lethal subtype—develop in the fimbria of the fallopian tubes before proliferating on the surface of the ovary. Dr. Trabert recently examined trends in fallopian tube cancers using the North American Association of Central Cancer Registries (NAACCR) demonstrating that changes in diagnostic practice have already begun.
This change in the understanding of the origin of many ovarian cancers indicates that the etiology is likely quite heterogeneous. However, scientists suspect that inflammation may be a common mechanistic thread. Dr. Trabert's research focuses on clarifying the role of both systemic and local (tubal) inflammation in ovarian carcinogenesis by histologic subtype. In addition, she recently spearheaded a study examining the role of sexually transmitted diseases that are associated with chronic pelvic inflammation, such as Chlamydia, and ovarian carcinogenesis. She has published and continues to lead studies within the Ovarian Cancer Cohort Consortium (OC3) to understand the role of anti-inflammatory medications, particularly low-dose aspirin, in reducing ovarian cancer risk. Most recently, Dr. Trabert was awarded a Department of Defense Investigator-Initiated Research Award to continue her research on the potential chemopreventive effects of aspirin on ovarian cancer. This research will include investigations into the relationship of daily aspirin use and ovarian cancer risk, to identify subgroups of women who could most benefit from aspirin chemoprevention, and to explore mechanisms by which aspirin reduces ovarian cancer risk by utilizing ovarian tumor tissue from OC3 cohorts.
Dr. Trabert also led molecular studies to better understand circulating markers of inflammation and ovarian cancer within the Prostate, Lung, Colorectal and Ovarian (PLCO) Cancer Screening Trial. She recently expanded this research by leading an analysis to evaluate associations between ovarian cancer risk and novel inflammatory markers: metabolites of arachidonic acid and linoleic acid.
Hormonal Etiology of Female Cancers
As evidenced by associations with menopausal hormone therapy and oral contraceptive use, hormonal factors play an important role in ovarian, endometrial, and breast cancers. However, the underlying carcinogenic mechanisms are not well understood. Surprisingly little is known about the role of endogenous hormones in ovarian and endometrial carcinogenesis, and although the role of circulating estrogens/estrogen metabolites in breast cancer etiology is established, few studies on circulating androgens and/or progesterone are available.
Dr. Trabert recently led a nested case-control study analysis within the Women's Health Initiative Observational Study (WHIOS) to evaluate the role of estrogen metabolism in ovarian and endometrial cancers. To further understand the role of endogenous hormones and cancer risk, she has been a key player in the development of two novel hormone assays with colleagues at the Frederick National Laboratory for Cancer Research. These assays measure androgens and androgen metabolites, and progesterone and progesterone metabolites. Androgens and progesterone are precursors of estrogen metabolites. Experimental data suggest that androgen and estrogen exposures to the endometrial and ovarian epithelium promote tumor growth while progesterone exposure mitigates risk. Combined with the existing capacity to measure estrogens and estrogen metabolites, the ability to measure multiple androgen and progesterone metabolites will help advance our understanding of the hormonal etiology of cancers that occur in both men and women. Dr. Trabert recently utilized these assays to analyze androgen/androgen metabolites and ovarian and endometrial cancer in WHIOS. Dr. Trabert is leading novel investigations relating progesterone/progesterone metabolites to breast, ovarian, endometrial, and colorectal cancers within the Bone Density and Cancer Risk Follow-up Study of Women in the Fracture Intervention Trial (BFIT). In addition, she is leading the evaluation of progesterone/progesterone metabolites in premenopausal women utilizing data from the Sister's Study Cohort conducted at the National Institute of Environmental and Health Sciences and the Cancer Prevention Study-3 Cohort conducted at the American Cancer Society.
Dr. Trabert has contributed significantly to improving scientific understanding of the relationship between exogenous hormone use and cancer risk. Using the NIH-AARP Diet and Health study, she provided the strongest evidence to date that the use of estrogen plus progestin mitigates the increased risk of endometrial cancer observed with estrogen-only menopausal hormone therapy. More recently, Dr. Trabert and collaborators analyzed data from NIH-AARP to investigate whether the relationship between oral contraceptive use and risks for ovarian, endometrial, breast, and colorectal cancers change depending on health behaviors in the years leading up to and during menopause (for example, smoking, alcohol use, body mass index, and physical activity). In a separate study, they conducted a broad examination of oral contraceptive use and risk of many different cancers within NIH-AARP.
Dr. Trabert's research also focuses on cancer risk related to fertility treatment, which can involve high doses of ovulation-inducing medications and in vitro fertilization (IVF) procedures. To evaluate the potential impact on cancer risk in women undergoing fertility treatment, she is leading a country-wide retrospective medical record linkage study in Israel.
Press Contacts
To request an interview with NCI researchers, contact the NCI Office of Media Relations.
ncipressofficers@mail.nih.gov | 240-760-6600