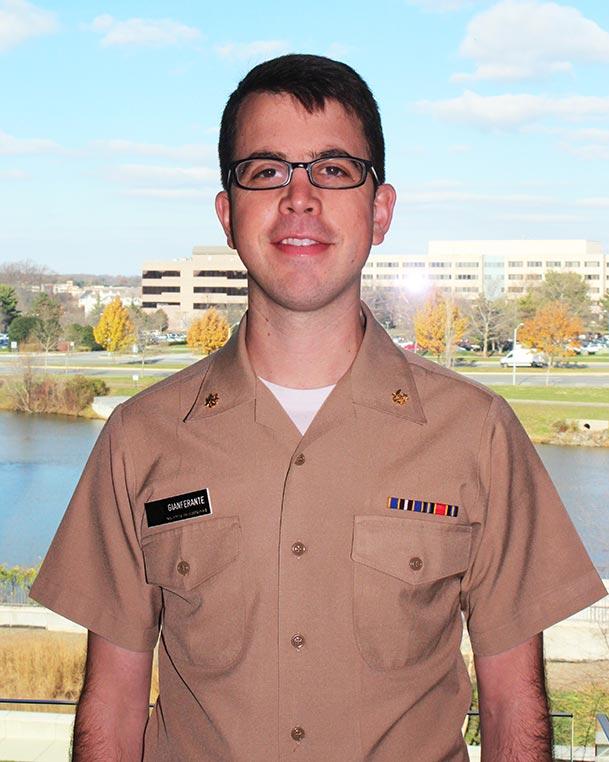 Matthew Gianferante, M.D.
Matthew Gianferante, M.D., joined the Clinical Genetics Branch (CGB) as a postdoctoral clinical fellow in 2017. Dr. Gianferante obtained his M.D. at the Uniformed Services University of the Health Sciences (USUHS), Bethesda, Maryland. He completed a pediatric residency at Tufts Floating Hospital for Children, Boston, Massachusetts, a pediatric hematology oncology fellowship at Walter Reed National Military Medical Center, Bethesda, Maryland, and a master's in public health with a concentration in epidemiology and biostatistics from USUHS.
Dr. Gianferante works under the mentorship of Lisa Mirabello, Ph.D., senior investigator, to study disease-associated mutations in osteosarcoma and in pediatric cancer survivors. He also focuses on gene discovery and genotype-phenotype characterization of Diamond Blackfan anemia patients in the inherited bone marrow failure cohort under the mentorship of Sharon Savage, M.D., Chief and senior investigator, and Neelam Giri, M.D., staff clinician. Dr. Gianferante is a commissioned officer in the United States Public Health Service and has been deployed numerous times for medical missions since 2017.