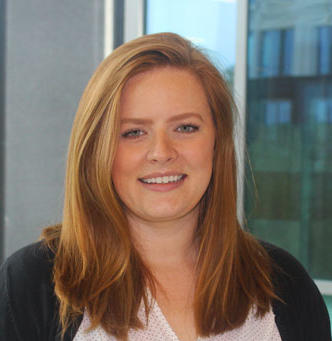 Kathleen M. McClain, Ph.D., M.S.
Kathleen M. McClain, Ph.D., M.S., joined the Metabolic Epidemiology Branch (MEB) as a postdoctoral fellow in 2018. Dr. McClain earned her Ph.D. in epidemiology from the University of North Carolina at Chapel Hill, her M.S. in biostatistics from Georgetown University, Washington, DC, and her B.S. in mathematics from Hofstra University, Long Island, New York. Her doctoral research focused on associations between dietary intake of polyunsaturated fatty acids and Barrett's esophagus, esophageal adenocarcinoma, and gastric cardia adenocarcinoma, under the mentorship of Dr. Marilie Gammon. Her research interests include modifiable lifestyle factors and cancer, particularly in rare tumors.
Dr. McClain is working on studies examining the components of energy balance, metabolomics, and cancer, under the mentorship of Steven C. Moore, Ph.D., M.P.H., Earl Stadtman Investigator.