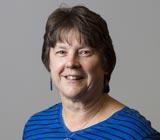 June A. Peters, M.S., C.G.C., L.M.F.T.
Biography
June Peters received an M.S. degree in genetic counseling in 1973 from Rutgers University and an M.S. in psychological counseling in 1986 from California State University at San Bernardino. Over a four decade career, she has held a wide variety of genetic counseling and academic positions in tertiary care medical centers, universities, private community hospitals, county, state and federal government. She is board certified by both the American Board of Genetic Counseling and the American Board of Medical Genetics and is a founding member of both the National Society of Genetic Counselors, and the American College of Medical Genetics. Ms. Peters is also a Marriage and Family Therapist, licensed in California and the District of Columbia. 
Within DCEG's Clinical Genetics Branch (CGB), June Peters served as the senior genetic counselor, involved in genetic education, counseling and research in various CGB clinical research protocols. She and sociologist collaborator Regina Kenen have conceived and introduced the Colored Eco-Genetic Relationship Map (CEGRM) into clinical research for assessing social exchanges. They applied the CEGRM to assessing high risk families and, with NHGRI collaborators, their social networks. 
Ms. Peters' research efforts explored the dynamic personal, family and social implications of hereditary cancers and gene-environmental interactions focusing on biological mechanisms –  such as inflammation and telomere biology – that interact with psychological and social well-being and health. She retired from government service in 2017.