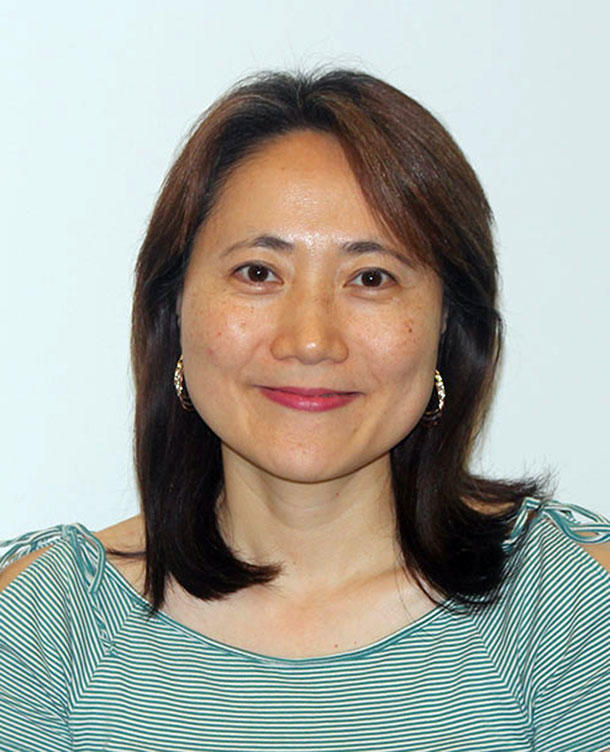 Jiyeon Choi, Ph.D., M.S.
Earl Stadtman Investigator
Head, Jiyeon Choi Laboratory
NCI Shady Grove | Consolidated Research Laboratories, Room 3116
Biography
Learn about the lab: research focus, lab members, news, and publications.
Jiyeon Choi received her B.S. from Ewha Womans University and her M.S. from Korea University in Seoul, Korea, and her Ph.D. in cell and developmental biology from Rutgers University in New Jersey. In 2011, Dr. Choi joined NCI as a postdoctoral fellow in the Laboratory of Translational Genomics; she was promoted to research fellow in 2016. In 2019, Dr. Choi was appointed as an Earl Stadtman Investigator and selected for the NIH Distinguished Scholars Program
Dr. Choi has received numerous awards for her work, including the NCI Director's Intramural Innovation Award, the DCEG Outstanding Research Paper by a Fellow, and the NCI Outstanding Mentor Award.
Research Interests
Dr. Choi's research focuses on understanding genetic susceptibility to lung cancer and melanoma.
Genetic Susceptibility to Lung Cancer and Melanoma
A central goal of Dr. Choi's research is to identify genes and molecular pathways through which heritable genetic variants confer increased cancer risk. Genome-wide association studies (GWAS) have identified numerous genomic loci associated with lung cancer risk, including those specifically associated with smoking status, ethnicity, histological subtypes, and a specific somatic driver mutation. To identify functional variants and affected genes from these loci simultaneously, Dr. Choi uses a functional genomics approach, including massively parallel reporter assays (MPRA), CRISPR-based screening, and chromatin interaction studies. She also explores heritable gene expression regulation patterns by building expression quantitative loci (eQTL) datasets from diverse ancestries, including cell-type-specific datasets using single-cell sequencing technologies. These QTL datasets allow her to characterize lung cancer and melanoma GWAS loci by integrating them with other functional genomic data. She further investigates susceptibility genes identified from these integrative approaches in cell-based systems to elucidate their roles in tumor evolutionary trajectory in the context of somatic driver events.
Lung Cancer Etiology in Never Smokers
In the U.S., between 80-90 percent of lung cancer is attributable to smoking or tobacco use. However, the cause of lung cancer in never smokers requires further investigation into the contribution of germline genetics, environmental exposures, and their interaction with susceptibility genes. Dr. Choi aims to understand genetic susceptibility to lung cancer in never smokers by performing functional follow-up studies on GWAS data from Asian female never smoker lung cancer cases. Her research will also expand to include the functional characterization and validation of data generated from the Sherlock-Lung study, which aims to trace lung cancer etiology in never smokers. This effort includes cell-based assessment of exogenous and endogenous tumor mutational processes inferred from somatic mutational signatures and characterization of somatic driver events specific to this subtype of lung cancer. Dr. Choi will integrate findings from these studies to identify the cellular and environmental context in which susceptibility genes are functional and conferring risk.
Consortia
Member of the International Lung Cancer Consortium (ILCCO)
Press Contacts
To request an interview with NCI researchers, contact the NCI Office of Media Relations.
ncipressofficers@mail.nih.gov | 240-760-6600