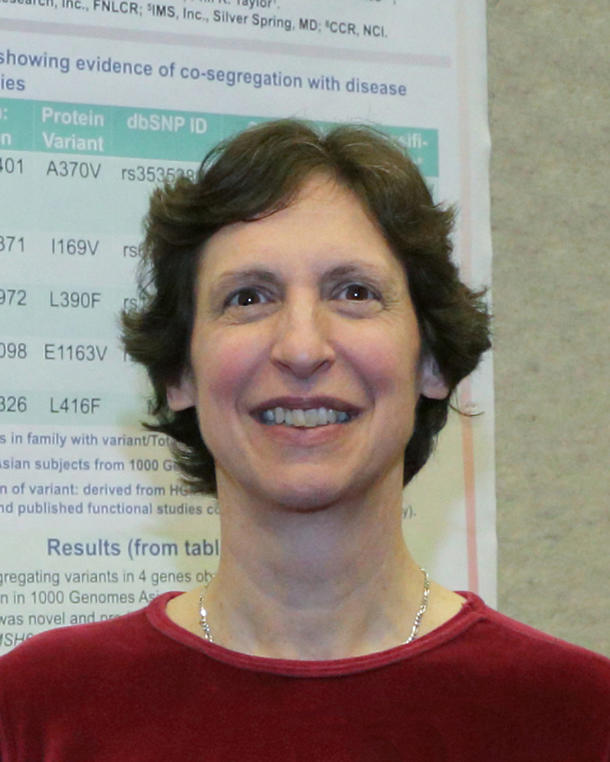 Alisa M. Goldstein, Ph.D.
NCI Shady Grove | Room 6E438
Biography
Dr. Goldstein received a Ph.D. in genetic epidemiology from the University of California at Los Angeles in 1988 and subsequently joined DCEG. She received NIH scientific tenure in 1997. Dr. Goldstein completed a fellowship in the NIH InterInstitute Medical Genetics Program, and is board certified in medical genetics. Her research focuses on genetic epidemiologic studies of several cancers, including melanoma and upper gastrointestinal (UGI) cancer. The main goal of her studies is to understand the role of genetic and environmental factors in the etiology of these cancers. Her studies combine epidemiologic, genetic, clinical, and molecular methodologies.
Research Interests
Identification of genetic and environmental risk factors for cancer
Search for high-, moderate-, and/or low-risk cancer susceptibility genes using family-based, tumor-based, and case-control/cohort studies
For cancers with identified major susceptibility gene mutations, investigation of other genetic and environmental factors and their interactions in the expression of disease
Identify novel inherited gene variants that contribute to the development of atypical spitzoid tumors in children, adolescents, and young adults.
Press Contacts
To request an interview with NCI researchers, contact the NCI Office of Media Relations.
ncipressofficers@mail.nih.gov | 240-760-6600