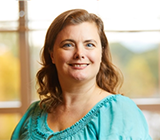 Danielle Karyadi, Ph.D.
Division of Cancer Epidemiology & Genetics
NCI Shady Grove | Room 7E560
Biography
Dr. Karyadi received her Ph.D. in molecular genetics from the University of California, San Diego and was a postdoctoral fellow at the Fred Hutchinson Cancer Research Center. Prior to joining DCEG, Dr. Karyadi was a staff scientist at the National Human Genome Research Institute where her most recent work utilized whole exome and whole genome sequencing to identify germline cancer susceptibility variants as well as somatic mutation signatures in aggressive prostate cancer tumors.
Research Interests
Dr. Karyadi is interested in identifying genetic variants that modulate cancer susceptibility, tumor progression or risk of secondary malignancies. She has expertise in family-based and case-control analyses utilizing a variety of approaches from genome-wide association studies or haplotype-based analysis of single nucleotide polymorphism chip genotypes to implementing bioinformatic pipelines of high-throughput sequencing for variant identification and annotation.