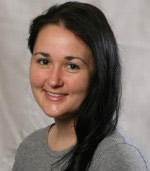 Gina Ney, M.D., Ph.D.
NCI Shady Grove
Biography
Gina Ney, M.D., Ph.D., joined the Clinical Genetics Branch (CGB) as a staff clinician in November 2020. She earned her M.D. and Ph.D. from the University of Michigan, where she stayed on to complete a residency in pediatrics and a fellowship in pediatric hematology/oncology. In addition, Dr. Ney conducted research on pancreatic cancer tumorigenesis in the lab of Dr. Diane Simeone, and NRAS signaling in hematopoietic stem cells in the lab of Qing Li.
Research Interests
Dr. Ney has a particular interest in the intersection of Ras mutations, metabolic reprogramming and cell fate decisions. She is working on the Rasopathies natural history study with Dr. Douglas Stewart, senior investigator in CGB.