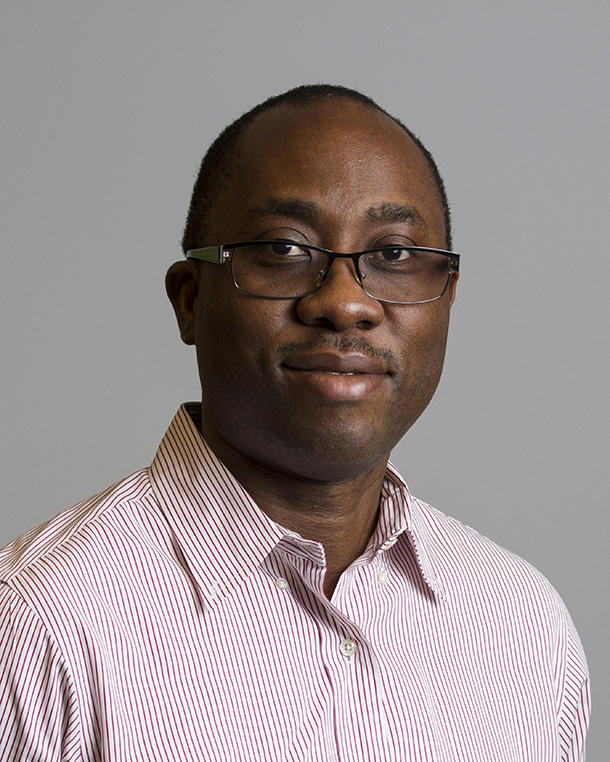 Olusegun Onabajo, Ph.D.
NCI Shady Grove | CRL, Room 3108
Biography
Dr. Olusegun (Segun) Onabajo received a Bachelor of Pharmacy degree from the Obafemi Awolowo University, Nigeria and a Ph.D. in cell biology and molecular genetics from the University of Maryland, College Park in 2008. He received postdoctoral training at the University of Maryland Medical School in Baltimore and the Uniformed Services University for the Health Sciences in Bethesda. In May 2013, Dr. Onabajo joined the group of Ludmila Prokunina-Olsson, Ph.D., in the Laboratory of Translational Genomics (LTG), DCEG as a postdoctoral fellow. He has been instrumental in establishing functional studies to explore the role of the newly discovered interferon lambda 4 (IFNL4) in cancer and infection. Dr. Onabajo has received the NCI Director's Career Development Award, the DCEG Fellows Award for Research Excellence, and the DCEG Fellowship Achievement Award. He also received an award from the International Cytokine and Interferon Society. He was promoted to staff scientist in LTG in 2016.
Research Interests
Dr. Onabajo's research interests are focused on understanding the biology of IFNL4, a novel interferon that was discovered by the Prokunina-Olsson group in LTG and collaborators in 2013. He is defining how IFNL4 is associated with the pathogenesis of hepatitis C virus (HCV) infection, which is a leading cause of liver cancer. Dr. Onabajo showed that IFNL4 has a strong anti-proliferative effect in a hepatoma cell line and is currently defining the mechanism of this effect. He is evaluating the anti-proliferative effect of IFNL4 on other cancer cell lines, which may have translational potential. Dr. Onabajo also explores the association of IFNL4 with cancers of viral origin as well as viral infections in general. For example, he is exploring the role of IFNL4 in Burkitt lymphoma, a major pediatric cancer in Africa.
Press Contacts
To request an interview with NCI researchers, contact the NCI Office of Media Relations.
ncipressofficers@mail.nih.gov | 240-760-6600