Tenure-Track Career Path
Meet DCEG Stadtman Investigators
Jiyeon Choi, Erikka Loftfield and Megan Clarke are DCEG's newest Earl Stadtman Investigators.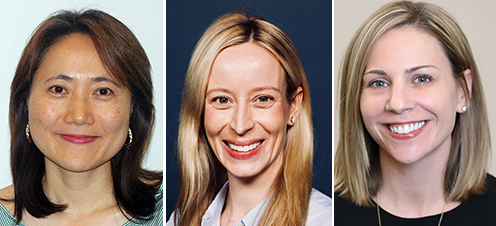 Roughly one quarter of DCEG's scientific staff are "tenure-track."
These early-to-mid-career scientists design and execute in-depth research into the environmental and genetic causes of cancer, and use and develop new methods for data analysis. Similar to academia, DCEG's tenure track provides a path to scientific tenure at NIH. Each investigator has one or more mentors and a tenure-track mentoring  committee to support the investigator's research program and preparations for NIH tenure evaluation. Learn more about the tenure track and criteria for tenure at NIH.
Life as a Tenure-Track Investigator
Each investigator is expected to manage an independent research portfolio, demonstrating innovation, creativity, and the ability to work collaboratively in teams. They are also expected to engage in mentoring of trainees in the Division's Fellowship Training Program. 
Tenure-track investigators receive professional development and career training, both within the Division and from NIH in the form of courses and lectures. Choose from a list of tenure-track investigators in DCEG and learn about what they do.
Current Openings
DCEG recruits tenure-track investigators from major academic and research institutions across the country and around the world. See currently available DCEG tenure-track openings.
DCEG also participates in the trans-NIH Earl Stadtman Investigator Program. This highly competitive recruitment effort brings in outstanding tenure-track scientists whose interests span the biomedical research enterprise, and who are eager to take on the high-risk, high-impact research that is the signature of the NIH intramural program. Applications are accepted once per year, at the end of September. Find out more about the Earl Stadtman Investigator Program.
For questions please contact Dr. Jackie Lavigne, Chief, DCEG Office of Education.