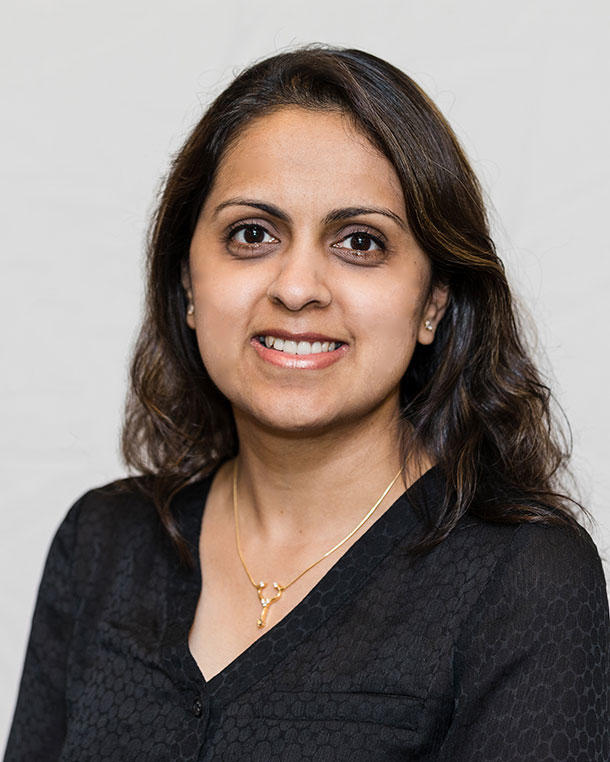 Payal Khincha, M.B.B.S., M.S.H.S.
Assistant Clinical Investigator
NCI Shady Grove | Room 6E540
Biography
Dr. Payal Khincha first came to the Clinical Genetics Branch (CGB) as a special volunteer and clinical collaborator in July 2012 as part of the research component of a clinical fellowship in pediatric hematology-oncology at the Children's National Medical Center (CNMC), Washington, D.C. In 2014, she formally joined CGB as a clinical fellow. In 2017, she became a staff clinician, and in 2018, the principal investigator on the NCI's longitudinal family study on Li-Fraumeni Syndrome (LFS). In 2020, Dr. Khincha was appointed assistant clinical investigator in CGB. Dr. Khincha's studies have led to multiple publications strongly supporting the need for LFS patients to receive comprehensive cancer screening. In addition, she and Dr. Christina Annunziata in the Center for Cancer Research were recognized with a CCR-DCEG Flex Award for a clinical trial, currently under development, of metformin as a chemopreventive agent in patients at extremely high risk of cancer due to an inherited mutation in TP53. Dr. Khincha received her primary medical degree (MBBS) in 2005 from Kempegowda Institute of Medical Sciences, Bangalore, India, and completed her residency training in pediatrics in 2010 at Maimonides Medical Center, Brooklyn, New York, and CNMC, Washington D.C. She is board certified in pediatrics and pediatric hematology-oncology.
Research Interests
Dr. Khincha's research aims to identify correlations of cancer with specific TP53 mutation types in individuals with LFS, assess the effectiveness of cancer surveillance on individuals and families with LFS, and determine if changes in mitochondrial function caused by use of metformin is associated with cancer incidence in the LFS population.
Dyskeratosis Congenita and Telomere Biology
During her tenure as a clinical collaborator, Dr. Khincha worked with Sharon A. Savage, M.D., Chief, CGB, focusing her research on the diagnostic methods and clinical management of dyskeratosis congenita (DC), a cancer-prone inherited bone marrow failure syndrome and telomere biology disorder (TBD). As clinical fellow, she continued this work, reporting on novel phenotypes and treatment of effects of DC, while developing expertise in the TBD spectrum and telomere measurement methods. Dr. Khincha is also embarking on a deep phenotyping and genotype-phenotype project in DC, and is currently working on collaborative international studies of a novel vascular phenotype in DC/TBDs within the Clinical Care Consortium for Telomere Associated Ailments.
Li-Fraumeni Syndrome
LFS is a highly-penetrant autosomal dominant cancer predisposition syndrome associated with a wide range of cancer types that occur at younger-than-expected ages. The NCI's longitudinal study on the clinical, genetic, and epidemiologic study of LFS opened in 2011 under the leadership of Dr. Savage, in order to further characterize the clinical and molecular consequences of this disorder, and develop a cancer screening program for TP53 mutation carriers. The team also assisted in the creation of an international LFS research consortium. During her NCI tenure, Dr. Khincha has been involved with the LFS Study in clinical evaluations and genetics of LFS families, quickly building her expertise in this area, taking on leadership roles in the study, and collaborating with experts in the consortium. Her LFS research focusses on developing an effective cancer surveillance protocol for these families, genotype-phenotype analyses, understanding the genetics and biological basis for cancer development in LFS, and evaluating the effects of cancer treatment on subsequent cancer risks. She received the 2023 NCI Director's Innovation Principal Investigator Award for her proposal, "Novel strategies for multi-cancer early detection using a cell-free DNA assay in individuals with Li-Fraumeni syndrome."