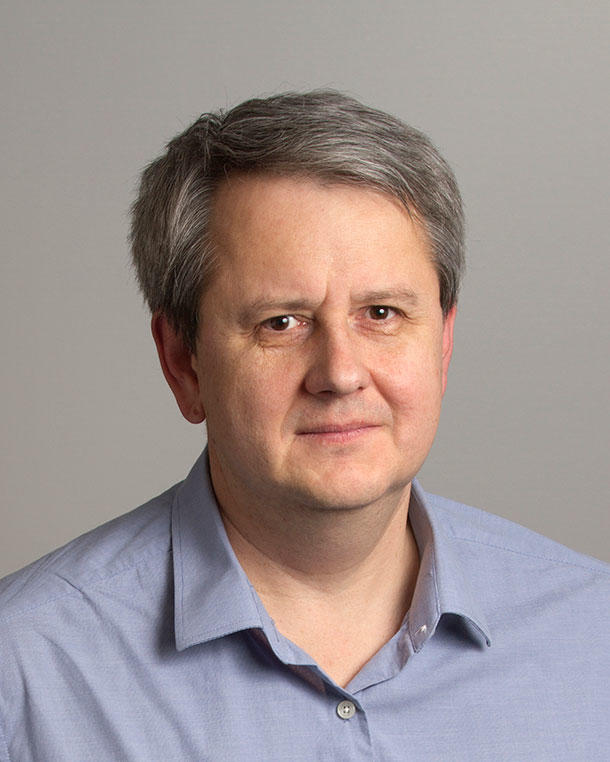 Vladimir Drozdovitch, Ph.D.
NCI Shady Grove | Room 7E548
Biography
Dr. Vladimir Drozdovitch is a radiation physicist and part of the Dosimetry Unit and Chernobyl Research Unit in the Radiation Epidemiology Branch (REB). Dr. Drozdovitch received an M.S. in nuclear physics from the Belarusian State University in Minsk, Belarus, and a Ph.D. in nuclear physics from the Belarusian Academy of Sciences. Previously, he was scientist at the Research Institute for Radiation Medicine in Minsk and the International Agency for Research on Cancer (IARC) in Lyon, France. He joined the Radiation Epidemiology Branch as a visiting fellow in 2006 and became a staff scientist in 2014.
Research Interests
Dr. Drozdovitch's main scientific interests include radiation dosimetry and dose reconstruction methods and analysis of uncertainties associated with radiation doses. Within the REB, he leads the dosimetry calculation effort for studies of the Chernobyl accident, leads efforts to estimate historical doses from nuclear medicine in a nationwide cohort of the U.S. Radiologic Technologists (USRT), and is involved in studies to evaluate exposure and risk from radioactive fallout from nuclear weapons testing.
Studies related to the Chernobyl accident
In the Chernobyl-related cohort study of thyroid cancer and other diseases, conducted jointly with the Ministries of Health of Ukraine and Belarus, Dr. Drozdovitch is responsible for conducting and overseeing the dosimetry for the thyroid screening studies, the Belarusian in utero cohort, and the study of Ukrainian clean-up workers, including a case-control study of thyroid cancer and an investigation into germline mutations in the offspring of those workers. He assesses uncertainties in the doses by accounting for shared and unshared errors and collaborates with statisticians on the incorporation of uncertainties into the risk estimates. He also continues to conduct and support characterization of uncertainties in dosimetry for the IARC case-control study of thyroid cancer in Belarus and Russia.
USRT study
Dr. Drozdovitch is the lead dosimetrist on the nuclear medicine component of the U.S. Radiologic Technologists (USRT) cohort. These technologists currently receive some of the highest occupational radiation doses of any medical workers. He has collected historical data, reviewed current practice standards and developed cutting edge methods to reconstruct doses from radioisotope diagnostic procedures.
Fallout studies
Dr. Drozdovitch has been a key researcher in the dosimetry effort for a study of thyroid nodules among persons in Kazakhstan who were exposed to radioactive fallout resulting from atmospheric nuclear weapons tests carried out at the Semipalatinsk Nuclear Test Site between 1949 and 1962. Information to estimate doses is based, in large part, on the analysis of historical behavior and food consumption. As part of a multi-disciplinary team, Dr. Drozdovitch set up and conducted focus-group sessions in Kazakhstan and incorporated those data in a complex two-dimensional Monte Carlo dosimetry system. He also provides dosimetry support to the INSERM (France) case-control study of thyroid cancer in persons exposed to fallout resulting from atmospheric nuclear weapons tests conducted in French Polynesia between 1966 and 1974.
Assessment of uncertainties in doses
Dr. Drozdovitch has successfully worked to evaluate the uncertainties in exposure assessment, which involves the separation of shared and unshared errors, and of the errors related to stochastic variability and to lack of knowledge. He has initiated studies to evaluate uncertainties due to human factors in dosimetry for clean-up workers in Ukraine and estimate the reliability of questionnaire based dose reconstruction in Belarusian thyroid screening cohort.
Press Contacts
To request an interview with NCI researchers, contact the NCI Office of Media Relations.
ncipressofficers@mail.nih.gov | 240-760-6600