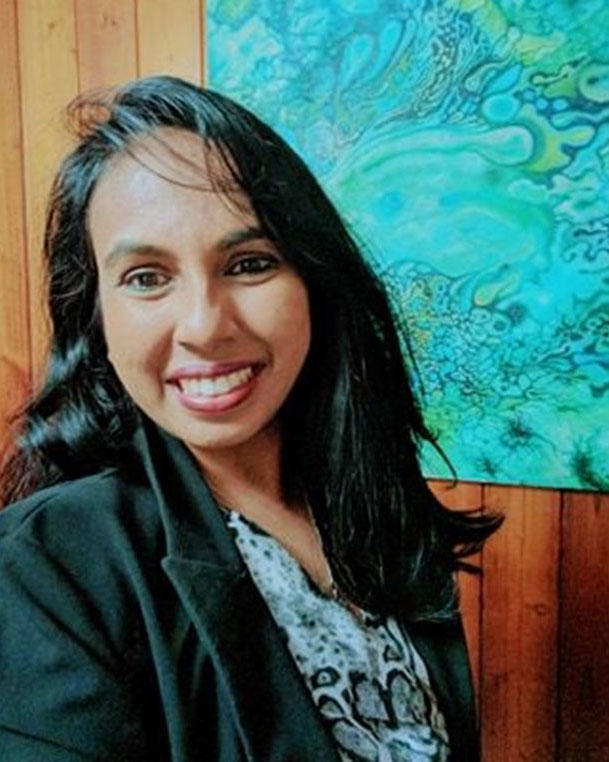 Akemi T. Wijayabahu, Ph.D., M.S.
NCI Shady Grove
Akemi Wijayabahu joined DCEG as a postdoctoral fellow in the Clinical Genetics Branch (CGB) in December 2021. She earned her B.S. in molecular biology and biotechnology from the University of Peradeniya, Sri Lanka (2014), and an M.S. in epidemiology (2017) and Ph.D. in epidemiology with a cancer epidemiology concentration (2021), both from the University of Florida, Gainesville. For her doctoral dissertation, she investigated associations between lifestyle factors, micronutrients, and biomarkers of biological aging. 
In CGB, Dr. Wijayabahu focuses on understanding etiological relationships and modifiable risk factors of cancers that afflict women, with a special focus on endometrial cancer. Epidemiologic evidence on endometrial cancer prevention, early detection, and etiology is limited. Thus, through her work at CGB, Dr. Wijayabahu strives to help bridge the gaps in endometrial cancer research under the mentorship of Megan Clarke, Ph.D., M.H.S.
In 2022, she received the DCEG Cancer Health Disparities Award for her proposal for a study of endometrial cancer. She also received the 2023 NCI Director's Innovation Career Development Award for her proposal titled "Investigating overall and race-specific differences in telomere length distribution and mean telomere length between normal, endometrial intraepithelial neoplasia (EIN), and endometrial cancer tissue."