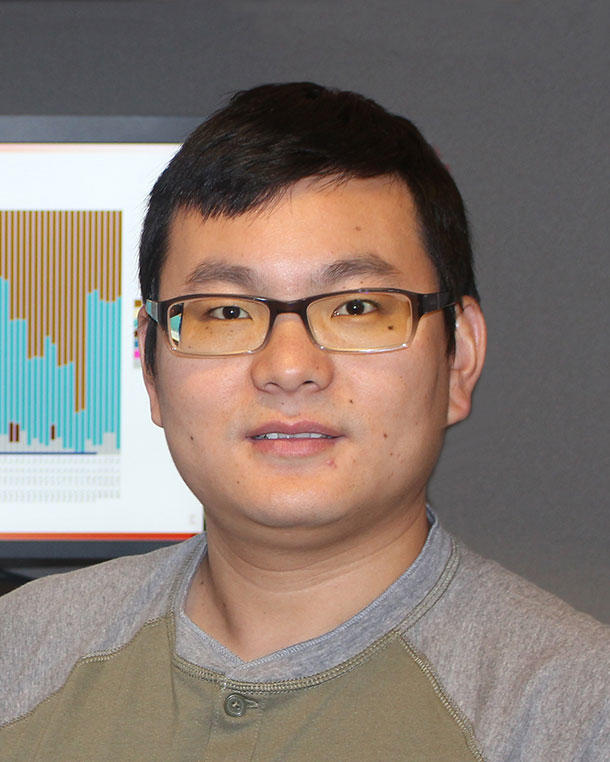 Tongwu Zhang, Ph.D.
Division of Cancer Epidemiology & Genetics
NCI Shady Grove | Room 7E218
Biography
Dr. Tongwu Zhang received his Ph.D. in bioinformatics from Zhejiang University, China, in June 2012. He conducted part of his doctoral research at the Beijing Institute of Genomics, Chinese Academy of Science, where he worked on whole-genome assembly and RNA-sequencing analysis. Prior to joining NCI, he was a visiting scholar at the King Abdulaziz City for Science and Technology, Kingdom of Saudi Arabia. Dr. Zhang joined the Laboratory of Translational Genomics (LTG) as a visiting postdoctoral fellow in July 2012, under the mentorship of Kevin M. Brown, Ph.D. He became a staff scientist in the Integrative Tumor Epidemiology Branch (ITEB) in October 2017.
Dr. Zhang has received several awards, including an NCI Director's Innovation Award in 2013, a Fellowship Achievement Award for Excellence in 2014, a 2015 DCEG Intramural Research Award, a DCEG Fellow Award for Research Excellence (DFARE) in 2016, and a winning entry in the 2016 DCEG Informatics Tool Challenge.
Research Interests
As a bioinformatician, Dr. Zhang has been involved in the design, application, and evaluation of new statistical methods and bioinformatics pipelines. He also performs data mining and visualization of large genetic and genomic datasets (TCGA, ICGC, GTEx, ENCODE, ExAC etc.).
Dr. Zhang has been conducting expression/methylation/miRNA quantitative trait loci analyses of primary cultured human melanocytes to identify and characterize susceptibility genes for nevi, pigmentation, and melanoma using data from genome-wide association studies (GWAS). In addition, he works with Jiyeon Choi, Ph.D., in Dr. Brown's lab, to identify functional risk variants from melanoma GWAS data using the massively-parallel reporter assays (MPRA). Future work will include the development and analysis of a GWAS of non-sun-exposed melanoma in a non-Caucasian population.
In collaboration with Bin Zhu, Ph.D., Jianxin Shi, Ph.D., Joshua Sampson, Ph.D., and Maria Teresa Landi, Ph.D., Dr. Zhang studies spatial intratumoral heterogeneity and temporal clonal evolution of non-clear-cell renal cell carcinoma, lung squamous cell carcinoma and neuroendocrine tumors via multiple region whole-genome sequencing approaches. In addition, he utilizes genomic and genetic data to characterize potential exposure-associated mutation signatures.