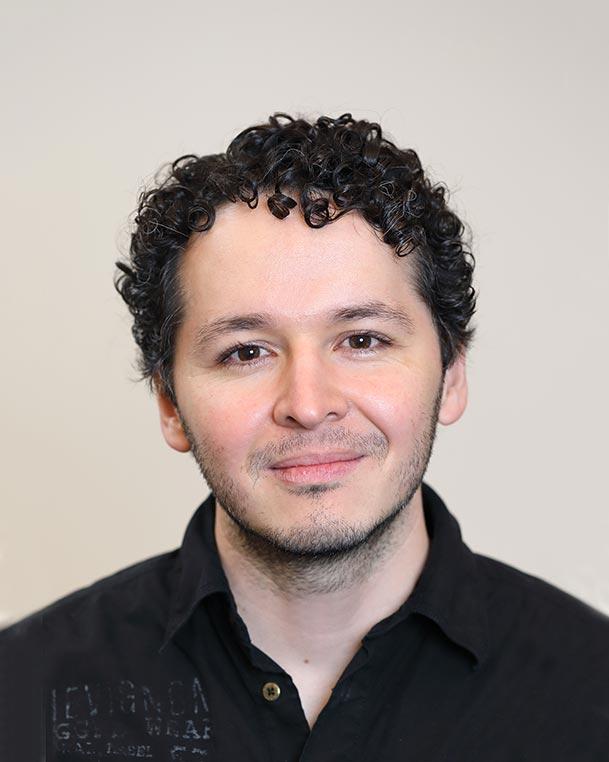 Oscar Florez-Vargas, Ph.D., M.Sc.
NCI Shady Grove | CRL/3108
Oscar Florez-Vargas, Ph.D., M.Sc., joined the Laboratory of Translational Genomics (LTG) as a postdoctoral fellow in the laboratory of Ludmila Prokunina-Olsson, Ph.D., LTG Director and senior investigator, in 2016 and was promoted to research fellow in 2022. Dr. Florez-Vargas earned his Ph.D. in computer science from the University of Manchester, United Kingdom, in 2016, and his M.Sc. in biochemistry from the National University of Colombia in 2008. For his doctoral research, he developed computer-based strategies for reviewing biomedical scientific manuscript methods and predicting their reproducibility under the mentorship of Professors Andy Brass and Robert Stevens. His master's research focused on identifying microRNAs associated with pharmacologically-induced senescence in an in vitro model of melanoma. Prior to joining LTG, Dr. Florez-Vargas was involved as a researcher in a number of studies examining genetic associations with infectious diseases and toxicological exposures in Colombia. In 2022, he was selected for the 2023 NCI Diversity Career Development Program, which seeks to provide postdoctoral trainees with the tools necessary to develop as leaders in independent academic research careers.
In LTG, Dr. Florez-Vargas is working on multiple genomic regions that have been associated via genome-wide association studies with increased risk of several cancers. He is involved in computational analysis of genotype-phenotype relationships to further evaluate the contribution of specific genomic regions, genes, and genetic variants to cancer phenotypes, under the mentorship of Dr. Prokunina-Olsson.